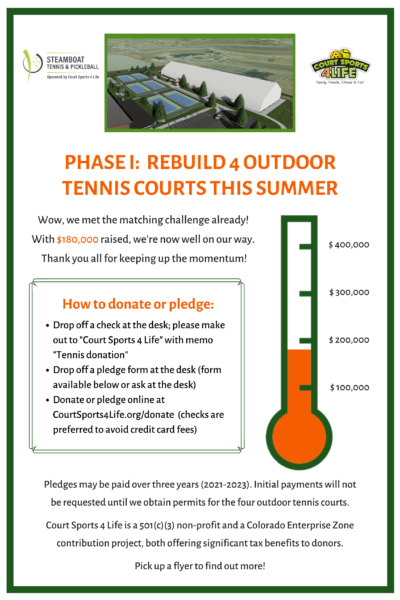 Thanks to 13 families who stepped up to meet the challenge, the full $90,000 challenge match offered by four other families has been met! We're now well on our way to making the four rebuilt outdoor tennis courts a reality but our work is far from done.
We are still hopeful that the tennis courts can be rebuilt late this summer and ask you to continue to pledge donations to this project, but we must also consider the possibility of delaying construction until next spring. We will not ask for payments until we obtain construction permits and schedule construction. Please be assured that under no circumstances will we take more than two outdoor tennis courts out of commission at any given time!
Here's what's going on behind the scenes and what still needs to happen:
The Building Committee is working hard to bring down the estimated cost of the new courts, which was originally quoted at $100,000 per court for post-tensioned concrete and an additional $50,000 per court for the gel surface. A big chunk of the estimate is for housing a crew of 12-17 workers for a month – do you know of any rental property where the owner would consider donating its use? This could reduce our out-of-pocket costs by as much as $50,000. (Contact us about the logistics of such a donation but structured properly, the property owner would get federal income tax deduction and a 25% credit on their Colorado state tax return.)
Two complications have arisen in the expansion project design that will affect our timeline, independent of fundraising –

Level of the courts – We originally thought that the courts could be rebuilt as a project separate from the indoor Pickleball Center and the parking lot. However, the property is not totally flat so different options are being investigated to avoid steps and ramps for the Pickleball Center. Some of these options affect the level of the new courts and, consequently, whether we can save money by retaining the Carol Baily post-tensioned concrete slab. We are now waiting for GCs to submit bids, expected in about two weeks, in order to start the discussions on costs and trade-offs of the different options.
Parking lot – We originally planned on simply adding new pavement to the parking lot to provide 24 extra parking spaces with the added benefits of improving safety and traffic flow. We have now been told that to bring the parking lot up to current code, we have to rip it up, add drainage, and build islands with landscaping at a projected cost of over $500,000! Since we share the use and responsibility for the parking lot with the City, we plan to ask them to grandfather us from current code requirements and, if that's not successful, to share in the cost. At the earliest, however, City funds would not be available until 2022.

Fundraising – Some of the unrestricted funds raised for the capital campaign will be applied towards the outdoor tennis courts, but our goal is to double what we have already raised! (Please consider making a pledge, which can be restricted to tennis capital improvements.)
One final thought – please do not be dismayed! All construction projects are two steps forward, one step back but we thought you'd want to know where things stand. Donate now and help make this drawing become reality!
Moz Modzelewski, Board Chair of CS4L and Loretta Conway, Executive Director for CS4L