Court Sports 4 Life's "2022: Year In Review" report is now available, sharing highlights and stats from the Tennis & Pickleball Center's operations as well as the outdoor expansion project, both of which are CS4L's responsibilities. Printed copies are available in the Center's entryway and can be downloaded below.
It's also our chance to thank the 360+ donors who made it possible for Phase 1 in 2022 and for Phase 2 in 2023. Because of you, pickleball players should be playing indoors on 12 dedicated courts and tennis players will have 6 indoor courts again some time next winter. We couldn't do this without each and every one of you!
In particular, we'd like to convey our deepest gratitude to our 24 donors of $50,000 or more, most of whom have chosen to be recognized on a court or common area with a small plaque. We would not have been able to embark on Phase 1 last year and Phase 2 this year without you!
Just click on the images below to download the documents and scroll further down for a listing of our top donors of $25,000 and more.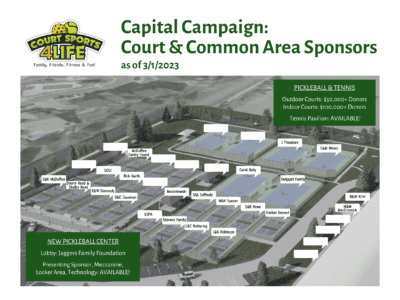 Our Top Donors (as of 2/25/2023)
Olympic Champions ($800,000+)
International Champions ($500,000+)

Jaggers Family Foundation
Moz and Debbie Modzelewski

Pan American Champions ($250,000+)
National Champions ($100,000+)

Bob and Claudia Dausman
David Berolzheimer Foundation in honor of Elaine and Win Dermody
Rick Garth
Robert and Gwen Krivi
Marci and Malcolm MacCormick
Shaun and Kristin McDuffee
The McDuffee Family Foundation
Sherry Reed and Shelby Reed
Steamboat Orthopaedics & Spine Institute (SOSI)

Diamond Level Legacy Leaders ($50,000+)

Court Sports 4 Life dba Steamboat Tennis & Pickleball Center
Gerber Berend Design Build
Sung and Larry Ioffredo
Lisa and Charlie Kettering
The Kettering Family Foundation
Gary and Jeanette Robinson
Susi and Randy Rowe
Max and Karen Speyer
Steamboat Springs Pickleball Association (SSPA)
The Stevens Family
Steve and Mitzi Weiss

Platinum Level Legacy Leaders ($25,000+)

Alpine Bank
Altitude Athletic Surfaces
The Bloom Family
HLCC Construction Company
Carolyn and Ricky Jenkins
Rex and Charene Jones
Larry and Becky Lamb
Patrice and Dave Lorenzen
Jay and Susan Mayes
Edward J. and Barbara Bouquet Robison
Elizabeth Searle
Jan Theadore
UCHealth Yampa Valley Medical Center
United States Tennis Association (USTA)
Please email us at info@courtsports4life.org if you see an error or oversight!